<!center>
The Pete Snidal Motorcycle Manuals
LOST in Enfieldland?
Are you the proud owner of a cast-iron (cylinder barrel) 1949-~2008 Royal Enfield Bullet which offers up (or still offers up) some "mysteries?" Having trouble finding a dealer or mechanic who seems to know anything about it? Well, take heart, dear reader, help is (still) at hand! Following are excerpts from the original pitch, first written in 2002, but still applicable today:
1. The Classic Burger Plate - Pre-2010 Royal Enfield Bullets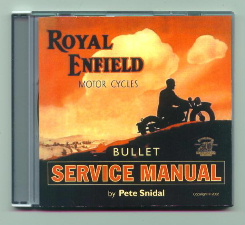 On CD
First written in 2002/3, and revised many times since, this is a CD-mounted manual for the Royal Enfield Bullet Series - Standard, Classic, Military, and now - as of Sep 2015 - in its latest incarnation, covering all models of cast-iron Bullets, - AVL models as well. It has sold many copies the world over. and is available to you in the latest updated edition.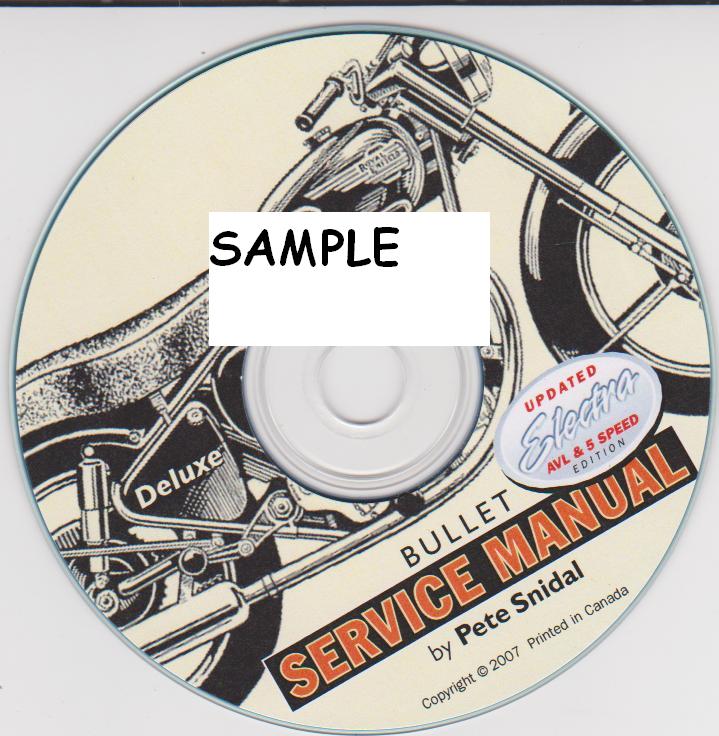 It's An Owner's Manual - And A Shop Manual!
These manuals have been written with all possible owners in mind, from the brand new motorcyclist to the seasoned tuner/mechanic. It begins with starting drill and the basics of learning to ride. From there, it covers troubleshooting, (including push-starting) going through engaging first gear and moving off, halting, panic stops, and changing gears. It continues all the way to the full intracacies of total repair and replacement - rebuilding of engine, gearbox, and chassis elements and even speed-tuning. Comprising over 200 pages of original text, it is a complete service and operation manual, of value to every owner, from the brand-new BAB (Born-Again Biker) to the already-competent mechanic in search of occasional reference material.

The author has done his best to cover all the possible motorcycle maintenance and tuning questions , with particular attention paid to the specifics of the Enfield Bullet. He looks back to over 50 years of motorcycle riding and wrenching experience, and, as well, draws on specific Enfield knowledge shared by personal correspondence and forum membership with similarly experienced Enfield mechanics all over the world through the internet.

You'll find this manul pays for itself every time from the first time you use it - since the purchase price is a fraction of that of the minimum hour of shoptime in most places!
Fully Illustrated
Although all the text is completely original, the book and CD contain some time-tested drawings and diagrams from previous factory manuals, supplemented by many photographs and custom drawingsin cses in which the author thought more clarification was required.
You Too May Attain "Bulletsatvana!"
This is a divine state of grace in which you become totally comfortable with your Enfield Bullet in all conditions, and at all times.

Although _everyone_ doesn't have to be a mechanic, just because they ride a classy "old" motorcycle (there's no disgrace in taking your ride into a shop to have things done; I always wished I could afford it myself!), even if you live close to a good shop, and can afford to have your machine worked on, it's still nice to know what's going on in there - whether "there" is the dark reaches of the rear regions of benchland, or inside your engine on a dark lonely road.

This manual is for these lucky folk as well! - and, even if you _don't_ intend to do a lot (or any) of your own work, doing some reading of this manual will help you become one with your Bullet! - to attain "Bulletsatvana."
Do People Like It?
Let me quote Kevin Mahoney, of Classic Motorworks, the US Distributor for Royal Enfield, in his April, '03 Newletter ( the month after the manual was released), on the release of the intial CD Version:

Shortly after this was written, production was expanded to include an optional hard-copy printed book. Unfortunately this hard-copy version is no longer printed in (or shipped from) North America. The true diehards may, however, order one from Royalenfield Books, in The UK. More on this later..

The CD version, however, is still available direct from this site! Since inception, we have been filling orders from all over Europe, North America, The UK, Australia, and New Zealand, and have had many favourable comments from the many satisfied owners.
Satisfaction Guaranteed!
If you are dissatisfied in any way with your CD-ROM Bullet manual, a refund will be despatched on receipt of return. (This has yet to happen, as of Sap, 2015)
What It's NOT!
This is NOT a collection of scans of other manuals - such as the early Redditch manuals or the Indian Factory Manual. It is completely original text written by Pete Snidal in 2002/3, and since revised regularly as newer and different models were introduced. The latest version now covers:
The Regular 4-Speed Bullets - 350 and 500cc
The Regular 5-Speed Bullets - 350 and 500cc
AVL Lean-Burns: Thunderbird, Machismo,
and Electra/X
And, yes, the original Brit-made Redditch Bullets, 1949-1961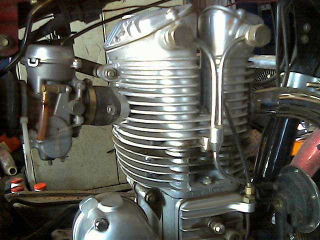 AVL Top End With CV Carb
Coverage For These Features:

Electric Start, Kickstart, CDI, TCI, and Points ignitions
AVL Lean-Burn (Aluminum Cylinder and Late Cylinder Head) Models
All carburetors - Miks, Mikunis, Amals, and CV
Gear-Pump Timing Cover (AVLs)
Lucas Magneto and Dynamo - as on pre-~'58 Bullets
"If It's A Pre-Unit Construction Enfield Bullet, It's Covered!"
A Sample Look..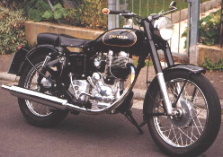 Your Classic Iron-Barrel 4-Speed Bullet
For a look at the Index and some sample pages of the actual CD Manual:
The Package
Now sent directly to you via the internet - upon payment, you'll be sent a link from dropbox. Click the link and download the entire manual as a .zip file.
Written in html, reads just like a giant website, but it's all in your computer!
Format compatible with PC, Linux, or MAC computers
Pages are intensively cross-linked - no leafing through pages looking for things as with a hard-copy book.
CD Owners: Need Hard Copy? Any page or pages may easily be printed - get 'em as greasy as you want! They magically become shop cleanup towels when you're through! (Plenty more where they came from!) - And you can burn a copy of your .zip file for backup aa well!
How to Purchase:
If this low-pressure presentation has motivated you to become a new owner of a copy of either format of this manual, please

Click Here For Purchasing Information

Thank you for your interest,


Peter K. Snidal,
B. Ind. Education
Metalworking/Mechanics

-
-
-
-
-
-
-
-

We support Truth Radio

Hit your Browser's "Back" Button to return

-----

Click Your Browser's "Back" button to return to previous file