The Pete Snidal Triumph Twins Owner's/Service Manual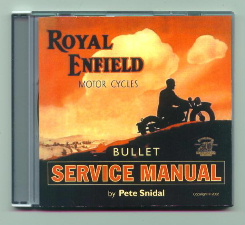 In 2002, Pete Snidal, a recovering Industrial Education teacher and long-time tuner/fan/admirer/fetishist of British Motorcycles, introduced hisl Royal Enfield Bullet Service Manual. It has been received world-wide with gratifying success. Since then, a number of users who also have Triumphs encouraged Snidal to come up with a similar offering for fans of the venerable Meriden Triumph Twins!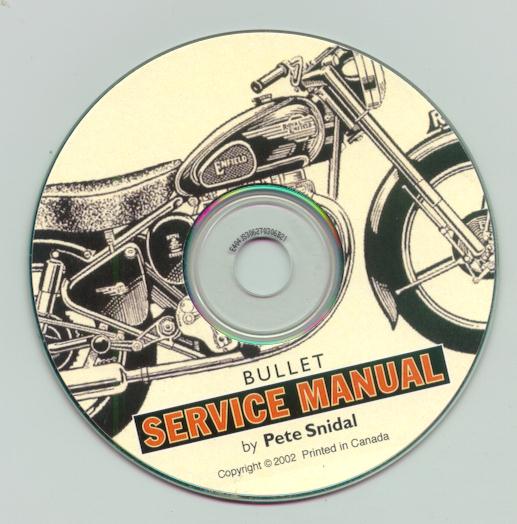 Mr. Snidal, being no less fame/money-hungry than most of us, responded with _Triumph_101_, another CD-based manual, this time for Meriden Triumphs!

Be The First On Your Block To Own This AMAZING CD!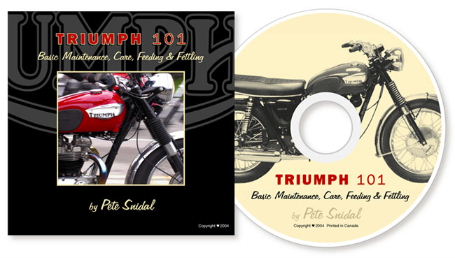 More Excellent Artwork By Network One of Toronto, Canada
The Same Great Features:
NO Adobe Acrobat (TM) - Reader or Otherwise - required. The CD is written entirely in html code*, so that it can be read with any web browser, such as Netscape (TM), Opera (TM), Cougar (TM), or even Internet Explorer! (M$ TM). NO fuzzy, hard-to-read, slow-loading, print or graphics. Generously cross-linked throughout, with links that will take you instantly to the section or article of your choice. Every page loads FAST and you use the controls with which you're already familiar: page up, page down, click links. No waiting for pages to load, and no need to click through pages 1-146 finally to find what you were looking for on page 147! ( - if you didn't miss it!) From the index, just click the link to the section you want, and you're there! A sample of the basic index page is linked from here or below.
Lavishly illustrated with photos and diagrams
Organized for those new to Meriden-built vintage Triumphs (or completely new motorcyclists) as well as for the experienced hand just looking for a fresh point of view or quick, easy reference.
Designed to augment, but not to replace, the excellent factory manuals - this CD seeks to ease the owner, from curious onlooker to experienced mechanic, into the detailed esoterica so competently provided in the factory books. (Parts and Workshop manuals.) Much easier to read and understand, it stops at being a complete guide to regular maintenance and tuning. For a better idea of what it covers, check out the sample index page.
All text is, once again, completely new - no rehashing of the same text found in the original factory books (they're already available - and copyrighted! Why redundify?) as found in many other after-market manuals. All text in the PS manual is completely original - a fresh point of view on many subjects.
Emphasis on trouble-shooting and how-it-works articles. There is an emphasis on explanations and theory of operation of the various bits that make your Triumph a living thing, rather than just how-to procedures for dismantling, examination, and reassembly - once again, The bare-bones plain facts are presented very well in the factory manuals, and we're doing an augmentation here, not a reiteration.
Shipped in a sturdy cardboard sleeve - no crappy exploding plastic CD "jewel case." A fine piece of art work at no extra charge! (Assimilated this Excellent idea from Neil Young and The Dead.)
Coverage
The manual goes from a discussion of the very basics of four-stroke operation and continues into the fine points of engine tuning and chassis maintenance. It stops at the level of engine and gearbox tear-down - the down-and-dirty aspects of very detailed definitely-shop work vary too much from model to model, and there's no sense in duplicating what has already been done so well by the wordsmiths and illustrators of Meriden many years ago. (Or their clones.)
What I have attemped to do with this manual is to provide a source of all the information you will ever need for day-to-day maintenance and fettling of your Triumph twin, in words the regular rider (and riderette!) will have no trouble understanding. It is, I feel, an excellent beginning for those who may wish to "ramp up" to full-on Triumph servicing, and provides more detail and perspective on many subjects not really covered well in the regular manuals, which were obviously written to speak to the already-qualified mechanic.
What About The "New Triumphs" (Hinckley/Cosworth Crotch Rockets?)
There are no plans to expand coverage to the new "Triumphs." Our coverage begins with immediate post-war rigid and Sprung-Hub twins, and extends to the "end of an era" Oil-In-Frame models of the late '70's.
Yeah, But Do People Like It?
Since it went on the market, feedback has been very similar to these reactions from the original Beta test: it was sent out in '03 to a half-dozen good men and true for review. These are typical responses:
"As a wrap up, this CD is worth every penny you are asking. I learned some new things. Some stuff I learned the hard way, hopefully your reader won't have to suffer like I did.. And although I like the Haynes manuals, they don't have everything, the factory manuals are written for experts with a perfect workshop, and other books seem to be more race oriented. (Tuning for Speed by Stan Shenton for example) So your book comes in as the perfect companion for someone who just wants to ride a Triumph with a minimum of headache."
"The electrical section is excellent as well, I especially liked the "rewire yourself" parts. Not sure why anyone would switch to negative ground, but the directions are clear and well illustrated. Nice schematics!" (Neg ground is NOT recommended, but instructions are there for later OIF's and cases in which unlucky owners have discovered their new Tympanii are case-grounded negative. (been there; done that.) - Ed.)
"In the gearbox section the troubleshooting tables and labeled photos of gearbox operation are the best I've seen in any manual anywhere. Nice work!"
And It's Guar-On-Teed!
Just as with the RE manual, if you are unsatisfied, your money will be returned on receipt of return of the CD. - This offer has never been taken up on either manual, both of which have been selling since 1993 for the RE, '94 for T_101!
What Else Can I Say?
There is a great deal of material in this manual. All that is linked in the index is covered in detail - with the reservation, of course, that we stop at serious shop work. You can get a good idea of what's in here by clicking this link (underlined text in blue) to see the sample index page.
Purchasing Options
Are totally simple. You can order through Paypal (they cost me, but I LOVE 'em!) or send me a cheque/ck. Price goes like this:
The Price Chart - $US 29.95 Plus Postage
Click The PayPal Logo to Purchase
| | | |
| --- | --- | --- |
| Purchase Price | S&H - North America | S&H - Overseas |
| $US29.95 | $3.00 | $3.50 |
| Total | | |
B. The Non-Paypal Option: You can send me a cheque!
Pay-Pal is a truly wonderful way to handle global commerce via the internet. But if for some reason you can not, or choose not to, use it, you can mail me a cheque. If you choose the cheque option, please make it payable to me at the address below, and I'll be happy to remit your manual by return mail. All cheques must be in the currency of country of origin, in an amount equivalent to the $US price for the option you choose from above. Hit your Browser's "Back" Button to return
----- Hit your Browser's "Back" Button to return
-----

Hits as of 14 Feb/'14